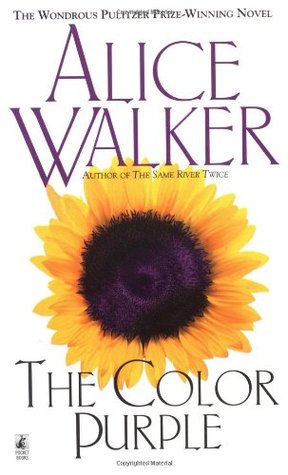 "You better not never tell nobody but God."
When I picked up The Color Purple in February as my Black History Month pick, I mostly chose it for the wrong reasons (could there really be a wrong reason to pick up this book? Probably not, as long as you're reading it). Firstly, February is a busy month for my family (we have 5 birthdays that month), plus valentine's day (which - usually I don't care about, but the 1st valentine's day in a relationship is kinda special). I knew I wouldn't have a ton of time to get a lot of reading done, but I knew I wanted to read something. I knew I wanted to read something short. I knew I wants to read something topical. I knew I wanted to read something important (read: not fluff - it won the Pulitzer
so
it qualified). I also knew I wanted to cross a book off of one of my many challenge lists, in this case, it's the
Classics Club
. (Crossing off lists is so satisfying.)
I had my choices narrowed down to
Giovanni's Room
and
The Color Purple
. Both of these novels are short (reason number 1). The Color Purple won out because I thought the epistolary style of the writing would make it an even quicker read than Room, even though it has more pages. The fact that I had the option of watching the movie version after completing it did factor in as well (of course). After reading it though, I realized that it doesn't matter why I picked the book up. It only mattered that I did. And I am so glad that I did (I'm sure I would have enjoyed James Baldwin too, but that's not the point here).
Taking place in the southern US, the story follows the lives of two sisters in the 1930s. Their struggles, their trials, their heartbreaks, their triumphs. At times I found this story to be heart wrenching, gutting even. It is so honest and raw. And at times it made me angry, the anger didn't blind me to the beauty of the story, however, and in contrast to the hopefulness you feel from the characters it just makes it that much more poignant. The characters all felt so real. I loved this book so much I gave it 5 stars on
Goodreads
.
I noticed
Possessing the Secret of Joy
in my local bookstore and picked it up solely because it had Alice Walker's name on it. I had loved reading The Color Purple so much, I was eager to read any other of Alice Walker's offerings I could find. Following the story of some of the characters first introduced in The Color Purple, Possessing the Secret of Joy was, for me, an even greater reading experience than The Color Purple was. I loved every minute of reading this, I had such an emotional response to
Possessing
that far surpassed that of when I read
Purple
. I loved getting back into the "world" of The Color Purple as well, getting to revisit the extended characters that I was so curious about was such a treat. I highly recommend this one to fans of Alice Walker, feminists, and anyone with a vagina, or anyone who knows someone with a vagina. Just about anyone, basically.