Fangirl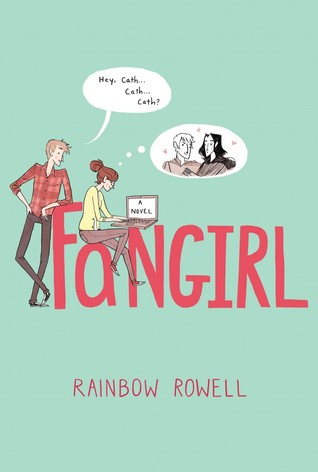 From the author of the New York Times bestseller Eleanor & Park.

A coming-of-age tale of fan fiction, family and first love.

Cath is a Simon Snow fan.

Okay, the whole world is a Simon Snow fan...

But for Cath, being a fan is her life—and she's really good at it. She and her twin sister, Wren, ensconced themselves in the Simon Snow series when they were just kids; it's what got them through their mother leaving.

Reading. Rereading. Hanging out in Simon Snow forums, writing Simon Snow fan fiction, dressing up like the characters for every movie premiere.

Cath's sister has mostly grown away from fandom, but Cath can't let go. She doesn't want to.

Now that they're going to college, Wren has told Cath she doesn't want to be roommates. Cath is on her own, completely outside of her comfort zone. She's got a surly roommate with a charming, always-around boyfriend, a fiction-writing professor who thinks fan fiction is the end of the civilized world, a handsome classmate who only wants to talk about words... And she can't stop worrying about her dad, who's loving and fragile and has never really been alone.

For Cath, the question is: Can she do this?

Can she make it without Wren holding her hand? Is she ready to start living her own life? Writing her own stories?

And does she even want to move on if it means leaving Simon Snow behind? (via)
My Thoughts:
Fangirl was the August pick for the
NovelTea Book Club
and I am so happy that it was chosen because it had been sitting on my shelf for
months
and I needed a good excuse to bump it to the top of the TBR pile(I have that problem of buying more books than I can realistically read - you know the one). I don't read a lot of contemporary YA fiction because I'm not a huge fan of "fluffy"
I really loved this book. First of all it was funny. Like LOL funny. It's a cute, feel-good story that put a smile on my face every time I opened the book. It did deal with some issues, such as mental health and anxiety, which gave the story a lot more depth but it never felt bogged down or depressing because of it.
The characters are believable and well rounded. I felt myself really relating so much to the MC Cath - introvert, bookish, writer. Her quirks, fears and insecurities made it seem almost as if I was reading about a real person instead of a character. Not only that, but I wanted to find this real person and befriend her. Like, yesterday.
I really loved the family dynamic, which was also very realistic, the parents weren't just absent like in a lot of other YA and the relationships between the characters were lovely.
The plot and character development was well-paced - no insta-love to be found anywhere, which was really well done by the author.
I really appreciated that it takes something as modern and relevant to the YA community as Fanfiction culture and makes it a central element to the story, it really adds to the reality and freshness of the story.
I also really liked the structure of the book and enjoyed reading snippets from both the Simon Snow series and Carry on, Simon.
Dear Rainbow Rowell, please make the Simon Snow series a thing. Yours always, Me. XOXO
I cannot recommend this book highly enough. It was a really fun, enjoyable read. Two thumbs up.
And that cover? Adorkable.
I know I'm a little late to the Fangirl party, have you read it yet? What were some of your thoughts? Leave a comment here or on twitter and let's chat about it.